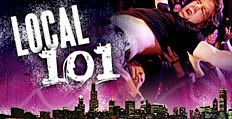 OH YEAH!!!!
Stoop finally got the O.K. for Sundays broadcast of LOCAL 101 on 101.1 FM.
they will play stoop's "First Names" between the hours of 10 and 11 P.M.
This is indeed a big COME UP we would like to take this chance to thank you all!!! for your support and love!!!!
and dont forget this coming friday we play, LIVE AT THE KINETIC PLAYGROUND 21+
10PM SHARP! ::sponsored by
WULI RECORDS
::
thank you all again!!!!!
and dont forget SUNDAY 10PM tune into 101.1 FM!!!!!!!!!!
-Adrien G.